About
About Hanli Prinsloo
Hanli Prinsloo is a Freediver and Ocean Conservationist. She is the founder of the I AM WATER Foundation which focuses on Ocean Conservation through Human Experience.
Hanli is a sought after inspirational speaker in her native South Africa as well as abroad. She speaks with animation and passion about freedom, fear, risk and conscious living. Her visual material from the underwater realm combined with her vibrant storytelling captures the imagination and inspires audiences of all ages and walks of life.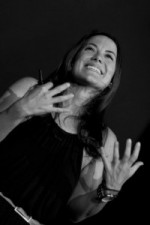 Hanli is an 11 times South African Freediving Record Holder, filmmaker and avid Ocean Adventurer. She has a background in acting, documentary filmmaking as well as over ten years of competitive freediving experience. Her documentary work has taken her into the front-lines of social political conflict all over Africa, from Burundi to Uganda, South Africa and Zimbabwe to name a few. Hanli is a strong believer in the greatness of the human spirit under the toughest of circumstances, having seen beauty and hope flourish where least expected. Leaving the camera behind her Hanli has focused all her energy on the ocean, surfing, sailing, paddling, conservation and freediving. Through her sport Hanli has trained an array of top athletes; from rugby players, to swimmers and surfers, working with mental toughness, mind over body control and mindfulness.
Merging her passions for social change and ocean conservation she is now the full-time CEO of the I AM WATER Foundation.
For bookings please contact Hanli directly:
Lifestyle & Work
 

I AM WATER Foundation / Founder & CEO
Inspirational Speaker
Writer
Freediving Instructor
Yoga Instructor
Media & Awareness- Ocean Ambassador
Using Freediving as a tool, Hanli has trained an array of top athletes from rugby players to swimmers, cyclists, runners and surfers- working with mental toughness, mind over body control and consciousness.
Coaching clients include:
Journalist and author of DEEP, James Nestor
SA Springbok 7's Rugby Team
Body Doubling and Coaching of Halle Berry
'Blue Crush 2' Cast with Sasha Jackson
Ultra trail-runner Ryan Sandes
Big Wave Surfers: Grant 'Twiggy' Baker, Andrew Marr, Chris Bertish, Greg Long, Colin Dwyer, Ryan Seelbach amongst others.
Recent Motivational speaking clients / events:

UBS Global Philanthropy Forum, St Moritz, Switzerland
Emerge Conference, SAID Business School, Oxford UK
Wildscren Film Festival, Bristol, UK
Western Academy of Beijing, Beijing, China
Liberty Group
Murray & Roberts
UCT Graduate School of Business
Old Mutual
YOUNG GLOBAL LEADER - World Economic Forum