Mystical Meeting with a Sunfish
I have been in love with the ocean for many years now, and I have experienced amazing meetings, creatures and made my best friends in and on the water. Human and aquatic.
A couple of days ago I had the great joy of making a new magical ocean friend.
Animal Ocean Steve and I launched out of Hout Bay to take some of our friends and freediving students to freedive with the seals around Duiker Island. The Cape Fur Seals with their large saucer-eyes, underwater acrobatics and curious nature are always so much fun and you can put anybody in the water with them and you know they will come out smiling.
It was a perfectly calm day, and we decided to do the short run to Maori Bay to show the guys the eery wreck and pretty bay at the far side of the Sentinel.
I always suggest these quick rides down the cliffs as I am constantly hoping and wishing for some dolphins to come and say hello. But today the ocean had something unusual in store for me.
As we sped over the cold atlantic water, me sitting in my favourite spot in the very front of Steve´s boat, I saw the ghost-like shape under the water and shouted STOP!!! just as Steve threw the boat into reverse causing kit and guests to clatter around. Steve and I shared a look, hoping.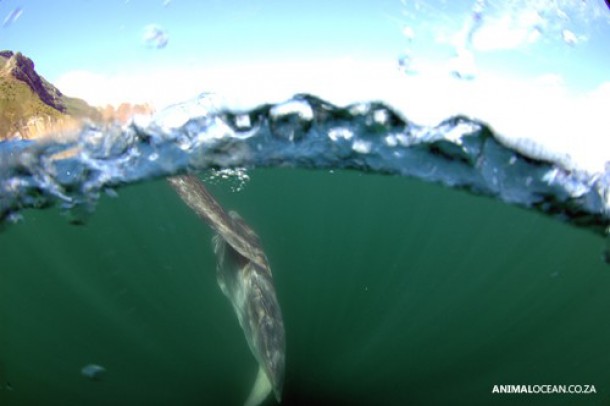 Yes! There it was! Our fast approach and quick stop hadn´t scared it away. The flat flank of the Sunfish glowed white in the green water and Steve told our guests about this incredible fish. The largest of all bony fish, this strange looking creature hangs just under the water surface, often with one fin protruding, sunning itself. Thus the name Sunfish. They are jellyfish experts and hunt deep in the cold depths for their squishy food needing to then spend hours at the surface recovering from the cold and dark, sun-worshipping. We ooh and aah, and I look at Steve. This is one very comfortable fish. We throw on fins and masks and quietly slip into the water. As I approach this funny looking new friend, I am once again overcome with gratitude for the time I get to spend on the sea. Always changing, always sharing- this vast ocean wilderness sustains me.
The sunfish looks at me with it´s large dark eye, something between the eye of a horse and a human. Spooky still and so big. I expect it to dive any minute, but the beautiful animal stays at the surface with us, gently finning around, seemingly as interested in us as we are in it. We spend about ten minutes with it, the most unaffected fish I´ve ever met.
Magical creature more at home in a storybook than our cold and sometimes violent Atlantic ocean, happy to meet you!