What I love talking about... Article in SAA Express Magazine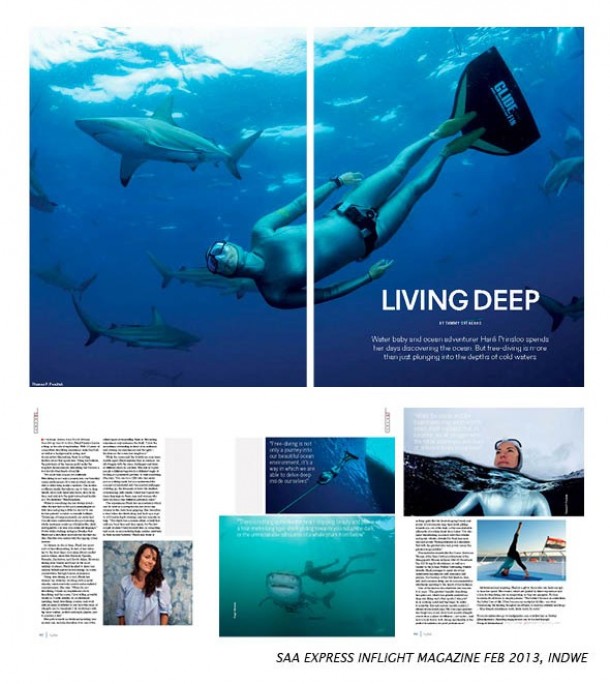 PLEASE READ THE WHOLE ARTICLE HERE...
Living Deep
Water baby and Ocean Adventurer Hanli Prinsloo spends her days discovering the ocean. But freediving is more than plunging into the depths of cold waters.
Words: Tammy Sutherns
Images/ Tiger Shark from below: Roger Horrocks
Portrait against Blue Wall: Jean-Marie Ghislain
Sharks in background: Thomas P. Peschak
Diving down along rope:Jean- Marie Ghislain
Half in half out portrait silver suit:Thomas P. Peschak
Yoga on deck:Jean-Marie Ghislain
As an eleven-time South African Freediving Record Holder, Hanli Prinsloo knows a thing or two about exploration. With 13 years of competitive freediving experience under her belt, as well as a background in acting and documentary filmmaking there is nothing shallow about this sporty lass. Using her belief in the greatness of the human spirit under the toughest circumstances, freediving has become a tool for all other facets of her life.
"It's more than a sport, it's a lifestyle. Freediving is not only a journey into our beautiful ocean environment, it's a way of looking inside yourself. One fosters a stillness inside that allows you to take on deep breath, slow down your heart rate, slow down time and sink into the quiet inside and around you. It's addictive," Hanli explains.
Water was something she always loved – often the last kid in the pool, raisin-fingers at bath time and going a little too far out to sea for her parent's comfort on seaside holiday. "Dreaming of being mermaids, my sister and I would swim underwater in the pool creating whole sentences made up of dolphin-like clicks and squawks, our very own mermaid language." It was while studying acting in Sweden that Hanli met a free diver and went for her first icy dive. Her fate was sealed with the zipping of a wetsuit.
As diverse as she is deep, Hanli has spent a lot of time filmmaking. In fact it has taken her into the front-lines of social political conflict across Africa, including areas like Burundi, Uganda, South Africa, Rwanda and Zimbabwe. Having seen beauty and hope in the most unlikeliest of places, Hanli decided to leave her camera behind however and focus her energy on Ocean Conservation through human experience.
Using freediving as a tool, Hanli has trained top athletes, working with mental toughness, mind over body control and consciousness. She says, "When I'm not freediving, I share freediving and the ocean. I love telling powerful stories so I write articles, do motivational speaking, teach freediving courses and work with an array of athletes to see how this story of strength can be beneficial. I do workshops with big wave surfers, cyclists and rugby players, to mention a few."
Her path towards motivational speaking was an easy one, as she describes it as one of the oldest types of storytelling there is. Her acting experience only enhances the thrill. "I love the immediacy of standing in front of an audience and sharing my experiences, my thoughts, the lessons the ocean has taught me."
While the ocean and the boardroom may seem worlds apart, Hanli explains that in essence we all struggle with the same challenges and fears at different times in our lives. Her role is to give people a different approach, a different angle of looking at a perceived problem to shift something. She says, "You can be a CEO who has never put on a mask but you understand the concept of calculated risk, the challenges of letting go, the demands of trust, the realities of swimming with sharks. I find that I speak the same language as these men and women who have chosen a very different path to mine."
The experiences Hanli has encountered, which can be used as a metaphor for just about any journey in life, have been gripping. She describes a time when she dived along and back up a rope to 65m depth wearing only her monofin as help."The depth has a certain allure, a thrill that calls me back time and time again but the last couple of years I have focused less on competing and more on encountering large marine creatures in their natural habitats." Hanli says there is nothing quite like the heart-stopping beauty and power of a four metre tiger shark gliding towards you out of the dark or the unmistakable silhouette of a whale shark from below. "I've also spent breathtaking moments with blue whales and sperm whales, dwarfed by their immense size and power. Their gentleness reminds one that with greatest size and power comes greatest responsibility."
Nominated for awards like the Cosmo Awesome Women of the Year Awards, Outthere Adventurer of the Year, Gsport's Women in Sport, Mail & Guardian Top 200 Young South Africans as well as a 'strider' in the Johnny Walker Celebrating Strides Awards, Hanli manages to speak about her experiences underwater with animation and passion. It is because of this that freedom, fear, risk and conscious living can be communicated so effortlessly, speaking to the hearts of her audience members.
One of the factors she attributes her success to is yoga. "The greatest benefit freediving has given me for my deep diving and other sports I practice is a strong mind and big lungs. For this and mental control, I always recommend yoga. My own yoga practice has taught me much about how mental strength comes out of a place of stillness, not noise and how a body that is both strong and flexible is the perfect foundation for peak performance."
Motivational and inspiring, Hanli is a gift to those who get a chance to hear her speak. Her stories, which thrive from direct experience and love for freediving, are as invigorating as they are energetic. For her, however, it's all down to a simple passion. "The better I become as a freediver, the better I am at life. It has become my metaphor for life, my story. Overcoming the limiting thoughts we all have, to trust my ability and let go … drop deeper, experience more, learn more, be more."