Maldives Manta Rays
Do you believe in Angels?
I am fast asleep folded into my economy class seat when I feel a light tap on my shoulder, 'I think you might want to look out the window' the air hostess smiles down at me. Groggy from a night of stopovers and small spaces I wipe my eyes and look out… and my breath is knocked right out of me. A scattering of islands blink up at me from the bright turquoise water, circular in shape the reef holds bowls of blue water, so transparent I can see the coral structures below the surface.The Maldives. We land almost in the ocean… islands here are hardly as long as an airstrip.
This island nation in the Indian Ocean is made up of close to 1,200 coral islands grouped into two chains of 26 atolls.The islands are spread out over a 2000km stretch from north to south, white sandy beaches, coconut palms and flowering trees and 5-star resorts. But we are not here for the islands. We are here for the clean clear crystal blue that quietly laps and caresses the coral outcrops. Our dive boat picks us up right outside the airport and we leave land. Boatlife. Lulled by the gentle rocking of the boat,porthole open, mild breeze my dreams are vivid and intricate. I live a whole year each night and wake up in the same position. The smiling crew has prepared a traditional Maldivian breakfast of shredded tuna mixed with crushed fresh coconut, chilli and lime wrapped in a fresh savoury pancake- delicious. We dive three times a day, making our way north. The water is a new shade of blue. A vivid clarity that moves turquoise onto a deeper level of inviting. I have never seen water like this. Whole schools of fish, blue, yellow, silvery slithery and pitch black cloud around us, unafraid, unaware. Fish are fun. But I want more.
The Maldives are famous for their manta ray population, and I am yet to experience this creature. Images, video and the stories of friends have captured my attention, and I want to see for myself. We arrive at the Baa Atoll on our fifth day. This is the home of famous Hanifaru bay. A relatively shallow lagoon surrounded by coral. Winds and currents create a unique plankton extravaganza every year at this time, the mantas come in their hundreds to feed. We anchor the diving boat in the late afternoon light and I slip on my monofin. The water here is just below 30°C so allI I need is mask and fin. No wetsuit. Pure joy for a cold Cape local. The water has an eerie milky quality to it,the blue leaning to green- the plankton softening the edges of the usually crystalline
I dive down, peering into the distance. Where are they? We have heard rumours of the decrease in numbers, the unreliability of the season. Just as my lungs start to beg for air I see her… a white shape moving slowly through the aquasphere. I relax a little more to stretch my oxygen, I want to stay. The white shape enters my space and the wide open gullet becomes clear, then the gently undulating wings, the lobes around the mouth. I am mesmerised. The Manta doesn't seem to notice me, or does and doesn't mind, but she stays her course, heading straight to me. I float a little higher and she passes below me, to straighten out my arm would've been a touch. I watch her disappear and kick up to the surface, gasping and laughing, overwhelmed by beauty. I make my surface time as short as is still safe and go back down.Waiting. A wall of mantas appear from the dusk. Four, five, ten like a flock of large birds flying impossibly slow they surround me. Keeping still they pass like ghosts. Looking up I marvel at the soft white belly. Black markings on the white makes each manta unique, names etched into white skin. I feel my heartbeat slow down, surrounded by their peacefulness. Never before have I seen something so large be so graceful, so elegant, so utterly self-contained… enough. Dive after dive breath after breath I get to know them. If I do this, how do they respond. If I join in a looping, arching acrobatic dive, are we dancing?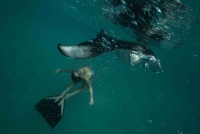 The sun sets and the lagoon gets dark. The other divers have left the water. Can I stay? Just one more dive, please. Plankton in my hair, salt in my eyes and mantas in my heart I leave this feasting playground to dream of white bellied angels flying in formation, only to do it all again tomorrow.
Images: Jean Marie Ghislain
Diving and accommodation: OK MALDIVES. Thank you Marie, Paul, Christian and the whole crew for an unforgettable week!
URL:
http://www.plongee-okmaldives.com